>
magnetic polystyrene microspheres
magnetic polystyrene microspheres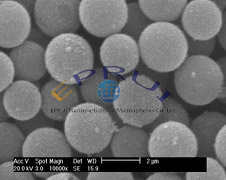 Magnetic polystyrene beads that we can offer is core shell type. It is prepared by coating a thin layer of iron oxide onto uniform polystyrene microspheres . By chemical modification, magnetic polystyrene microspheres can link with various functional groups as well as special antibody, protein, and nucleic acid which make magnetic polystyrene microspheres widely used in the industries of cell separation, protein purification, and immunoassays.

Magnetic Polystyrene Beads-Core shell type
a.Apperance
The suspension of core shell type magnetic polystyrene microspheres are brown. The structure of core shell type is with monodisperse polystyrene microspheres coated by a thin layer of magnetic nanoparticles(Fe3O4). The dispersant is phosphate buffer. It has good mono dispersity and magnetic response. Sedimentation will happen after long time unused. Before use, shake or ultrasonic dispersion is suggested.
b.Features
Superparamagnetic behavior
Extremely narrow size distribution
0.1μm-2μm monodisperese magnetic polystyrene microspheres are available
3. Specifications
EPRUI Nanoparticles&Microspheres Co. Ltd. supply polystyrene magnetic beads with various particle size and functional groups. Customization accepted if for special functional groups or particle size.
Items

Type

Matrix

Particle Size

Surface Groups

Unit

Magnetic Polystyrene Beads

Core Shell

Polystyrene

0.5-1um

-NH2

-COOH

-Epoxy

-SiOH

-Streptavidin

50mg/10ml

1-2um

2-3um

3-4um

4-5um